People who're serious about getting in shape are serious about their lifestyle. A healthy diet and solid exercise program should be your starting point before considering a fat burner supplement.
However, we could all use an extra push from time to time. The name 'fat burner' is given to food supplements that are specifically formulated to help support your fitness goals.
Before we get to the best fat burners of 2023, you should know that these supplements haven't been proven to induce weight loss or fat burning. Rather, it's the ingredients that they use – nutrients, antioxidants, plant extracts – that have clinical evidence backing their effectiveness for fat loss.
Each fat burner uses different ingredients, in different combinations, and in different doses. So each one will work for you a little differently. We've scoured the market for the best fat burners currently available – and after going through a lot of bogus and downright scam supplements, we've picked the 5 very best options on offer right now (plus 2 honorable mentions).
• 100% Natural
• 24-Hour Benefits
• Cayenne + Green Tea Extract
• 3 bottles+1 free
• Ships Worldwide
• Excellent Reviews

• For Busy Men 35+

• High-Quality Thermogenics
• Strong Hunger Control
• Clinically-Backed Formula
• Potent Ingredient Doses

• Luxury Brand

• Generation Iron Awarded
• Theacrine for Metabolism
• Forskolin for Fat Breakdown
• 4 bottles+1 free
• USA only
• Free 30-Day Cutting Guide
What are Fat Burners?
A fat burner is a popular type of food supplement, often made in pill form (and sometimes powder). A fat burner contains natural ingredients that help you to burn off body fat faster.
These ingredients, often sourced from herbs and plants, have various compounds which have been suggested in research to increase our body's fat burning capacity.
Some fat burning ingredients target fat cells and help the body break them down. Other ingredients trigger thermogenic reactions within your body which puts your metabolism into high gear – burning more calories.
It's important to choose a supplement that has ingredients that are supported by the latest scientific research. Many fat burners make big claims but use ingredients that have little to no benefits.
Needless to say, different products will have different formulas. So you'll need to keep an eye on what's going in your body, and what you're paying for. Below we'll list the best ingredients for fat burners and show you the dosages, so you can make an informed decision.
Why Take a Fat Burner Supplement?
Why should you consider taking a fat burner? The most obvious reason is that you want to burn off some unwanted pounds. Or maybe you're just looking to feel more confident in yourself. Ingredients like green tea extract, cayenne pepper, and Garcinia Cambogia are common in the best natural fat burners and can take your progress to the next level when paired with a good diet and exercise routine.
Some of the benefits you'll experience from taking a good fat burner include:
Faster metabolic rate
Improved ability of the body to use fat for fuel
Reduced appetite and food cravings
Increased mental energy levels
Let's check some common ingredients in fat burners and how they might aid in reducing your waist size.
Best Fat Burning Ingredients
1. Green Tea Extract
Green tea is a great, tasty beverage that's becoming a key ingredient in many supplements thanks to its powerful health benefits. It's a popular addition to many fat burners as it's been shown to have a number of actions that result in increased fat burning. (study1)
Green tea contains something called catechins. These are small molecules that trigger thermogenesis, a process where your core temperature rises, and so does the number of calories you burn with it.
Green tea can also help with the mental aspect of dieting. It boosts l-theanine levels which are linked to states of focus, calm and a sense of well-being – helping you to avoid food cravings.
2. Cayenne Pepper Extract
If you love spicy food, then you know cayenne peppers (aka, chili peppers). They've been grown and used for medicinal purposes for centuries. They don't just add fire to your dishes, but also to your metabolism – resulting in increased calorie loss. (study2)
Chili pepper is also suggested to help you beat hunger by reducing the secretion of the hormone ghrelin, reducing your total calorie intake. (study3)
3. Caffeine
Ah, delicious coffee. The world's most beloved hot drink is well known in the scientific community for helping with fat burning. Coffee does this mainly thanks to caffeine. High concentrations of the drug are found in each coffee bean, and it's been shown in numerous studies to help with fat loss in two main ways:
It sends signals to your fat cells which instructs them to get broken down
Increases your resting metabolic rate
As caffeine is a stimulant, not every person will react well to it. In some cases, caffeine can lead to nausea, jitters, energy crashes and anxiety. This is most common in intolerant people. Luckily, some of the best fat burners which you'll see below are stimulant-free.
4. L Theanine
L-Theanine is a natural amino acid from green tea and some types of mushrooms. It works wonderfully in pair with caffeine to smooth out any jitters and prevent mental crashes. This means you'll experience a clean, sustained energy lift.
L-Theanine is also effective at promoting a calming, meditative response in humans so you'll feel better and less likely to snack on less healthy stuff! [2]
5. Vitamin D
Vitamin D, or the sunshine vitamin, is a key player in keeping the weight off. First, vitamin D3 blocks the creation of fat tissue and inhibits lipid storage resulting in less fat accumulation in your body.
Second, vitamin D3 is linked to enhancing your serotonin levels, staving off low mood and suppressing appetite. The result? An easier weight loss process and faster results in the mirror.
High-authority journal papers show that simple tricks like adding vitamin D3 supplements to your diet can lead to substantial weight loss. [1]
How We Rank Fat Burners
In order to give you fair, accurate and impartial review, we inspect and test every product the same way – regardless of brand, price, or reputation. Our review team combines over 35 ranking factors across 6 different categories, including: price, ingredients, short-term benefits, long-term benefits, personal experience, and safety. The product with the highest final score gets picked as our #1.
We really go in depth in our individual reviews on this website, but to sum up what we're looking for:
The formula – Not just the ingredients, but also the doses.
Price – Not just the bare number but also value for money that the supplement offers.
Testimonials – It needs to have a positive feedback from other customers
Trust – You'll be using these products daily! We need to make sure they're completely risk-free and produced by a reputable company.
The Manufacturer – And the brand authority
Where to Buy – We'll include links to these product's websites for you to learn more about them, and buy if you're interested in trying them.
Our list only includes natural fat burners that have been road-tested for weeks (in some cases months) and are completely free of risky or synthetic ingredients. Shop in confidence and within a few weeks you should start noticing results on your body.
The 5 Best Fat Burner Supplements of This Year
Here they are, our 1-2-3 in Fat Burning Champion's League.
#1 Instant Knockout CUT – Best Fat Burner Overall
Highest rated thermogenic for both men and women . It has highly effective ingredients in clinical doses.
Instant Knockout CUT is a natural fat burner that can help you lose pounds in a safe and efficient manner. Produced by Roar Ambition, a specialist company from the U.K.
When it first launched, Instant Knockout was only available for professional MMA fighters to help them cut weight for fights. But due to how well this product worked, it was later released to the general public.
It remains one of the top fat burners with excellent ratings from countless reviews online.
Differences we've experienced from using Instant Knockout CUT:
Impressive levels of fat loss after 30-40 days
No uncomfortable hunger or food cravings
Significantly improved focus and energy levels through the day
Instant Knockout's Official Website: https://www.instantknockout.com/
The makers of this supplement consult with athletes, nutritionists and experts to ensure they're utilizing the best possible ingredients. Instant Knockout gets updated every 6-12 months by Roar Ambition as new research comes out.
Ingredients
Instant Knockout CUT contains many of our recommended ingredients for fat loss. The best ingredients in IK are:
• 500mg of Green Tea Extract
• 100mg of Cayenne Pepper Extract
•1800mg of Glucomannan
•300mg of Caffeine Anhydrous
Alongside these proven fat burners, Instant Knockout CUT also utilizes some essential nutrients such as vitamins B6 and B12, along with the recently updated vegan vitamin D and L-Theanine.
B vitamins are known for contributing to normal energy levels and the reduction of fatigue. Vitamin D encourages efficient fat burning in human mitochondria cells. Konjac Root Fiber, on the other hand, helps reduce appetite by naturally swelling in your stomach and making you feel fuller.
How it Worked for Us
Dropping pounds with Instant Knockout CUT was surprisingly easy. We started to feel it working almost right away. The caffeine and cayenne pepper combo significantly reduced our appetite within 60 minutes of taking the capsules, while glucomannan (konjac root) provided us with more of a long-term appetite suppression.
We also had a clean increase in energy levels during the day despite being low on calories. After around 2-3 weeks is when we started to notice physical differences in the mirror – very, very surprising!
This is the fastest horse in the race in our experience.
Following the initial 2-4 weeks results continued, although at a slightly lower pace (we did slip up here a few times as well). But if you continue to take Instant Knockout continuously for 2-3 months you'll be seeing some pretty significant differences in body fat compared to when you started.
One drawback is taking 4 capsules separately at different times of the day, which can be a bit hard to get used to. But this is the best way to ensure your body is constantly supplied with beneficial nutrients.
See more Instant Knockout reviews from customers here: instantknockout.com/testimonials
Pros
Natural and effective ingredients
Optimal doses
Endorsed by pro athletes
Based on the latest clinical evidence
No proprietary blends
Muscle-preserving
Produced in cGMP and FDA-approved facilities
Vegan-friendly
Cons
Only available direct at the official website
The caffeine dose isn't ideal if you're extremely sensitive to it
Instant Knockout CUT is Available on the Official Website
#2 Hunter Burn – Best for Busy Men
"A high-grade fat burner that gives you more. More ingredients, more servings, more quality."
Hunter Burn is a highly focused fat burner that caters to a specific audience – ambitious, high-achieving men who want a supplement that will help them look and feel their best.
If you need a fat burner that gives you the absolute maximum value, then get your hands on a bottle of Hunter Burn.
It contains a clinically tested dosage of matcha tea, vitamin D3, and white kidney bean to enhance performance, fat burning, and lean muscle growth.
While it's a premium-priced product, Hunter Burn doesn't compromise in any department.
Hunter will help you:
Improve daily mood and mental clarity
Target stored body fat with matcha tea
Stimulate thermogenesis with Cayenne extract
Suppress appetite with wite kidney bean
Strengthen immunity with vitamin D
Hunter Burn's Official Website: https://www.hunterevolve.com/hunter-burn
Ingredients
Hunter Burn is a supplement with a tried and tested formula.
If you want the best doses of the market-leading ingredients, then this could be the fat burner for you. Hunter Burn uses a huge 3g of Glucomannan per daily serving, which will help you feel full and avoid snacking. This will be most noticeable when you're on a calorie-restricted diet.
Main ingredients in Hunter Burn include:
Matcha Green Tea (200mg per daily serving)
Cayenne Pepper (125 per daily serving)
L-Theanine (200mg per daily serving)
Glucomannan (3000mg per daily serving)
Vitamin D and White Kidney Bean Extract were added to Hunter Burn to augment its fat-burning properties, along with balancing your hormones. All things considered, it's a well-thought-out formula.
How it Worked for Us
We got excellent results from using Hunter Burn. The first effect was more obvious than with other fat burners, but surprisingly, we weren't feeling jittery or lethargic later on.
We spent the last few days of our test using Burn Lab Pro and Hunter Burn together. While it was quite expensive, let's just say it was an amazingly effective fat-burning combo.
Main effects that we've noticed from using Hunter Burn for 1 month:
High energy levels without the jitters
More motivated to keep active, and stronger lifts in the gym
Deeper sleep
Increased ability to sustain focus and deep work
Solid amount of weight loss (comparable to Instant Knockout CUT)
One unexpected benefit some of our team members reported was a boost in sex drive, which is due to vitamin D. This is not really a surprise when you think about it – around 1 billion people worldwide lack vitamin D, and one of the symptoms is low libido.
Hunter Burn is a top-of-the-line fat burner, the only complaint we have is the price. We understand that it's formulated to provide maximum results, but some customers might prefer a cheaper fat burner. That said, Hunter Burn is definitely worth the money if you're able to afford it.
The Good:
6 evidenced and high-quality ingredients
Big dosages (5,000IU of vitamin D3)
Clinically tested for safety and cleanliness
180-capsules per bottle
Low-stim
The Bad:
Not cheap
Only sells on the official website
Hunter Burn is Available at Hunterrevolve.com
#3 Fighter's Core
"Won the 2020's Generation Iron Supplement Awards."
Fighters Core has brought something unique and fresh to the fat burner market; it's formulated to help protect your muscles from the catabolic effects of calorie restriction.
Fighters Core Fat Burner was specifically designed for a Pro 30-day weight cut. Meaning, it offers really impressive results in terms of fat loss too.
Ingredients
The ingredients profile of Fighters Core is strong. It's designed to help you maintain and build lean muscle tissue. It also contains a range of proven energy and mood boosters as well as thermogenic to impact fat breakdown in your body.
The ingredients in Fighters Core Fat Burner include:
Calcium HMB (104mg)
Chromium Picolinate (150mcg)
Green Tea Extract (98% polyphenols) (400mg)
Forskolin (200mg)
Capsimax (100mg)
TeaCrine (75mg)
Caffeine Anhydrous (25mg)
BioPerine Black Pepper Extract (10mg)
This is a great choice of ingredients in our opinion. The doses are well within a safe range. Black Pepper Extract is added to boost the efficacy of other ingredients.
Thanks to Forskolin and Calcium HMB, Fighters Core is the best fat burner for reducing muscle catabolism. For us, it is a 5/5 formula that considerably steps up the game in the natural weight loss market.
The only downside to Fighters Core is that it sells exclusively in the USA.
Pros
Targets fat for energy to get you leaner
Improves focus to maintain high willpower while on a diet
HMB for muscle tissue protection
90 perfectly dosed capsules
Fast-acting formula
Free shipping and great customer service
Cons
Only available in the USA
Only buyable direct from the manufacturer
No money-back guarantee
Fighter's Core is available on Fighterscore.com
#4 Burn Lab Pro – Best Stim-Free Fat Burner
Extremely clean formula, offers impressive results without using caffeine or other stimulants.
Burn Lab Pro is a laser-focused product made by Opti Nutra®. It contains clean ingredients designed to melt fat while maintaining your muscle tissue – using high grade, patented standardizations to ensure you get the full benefit.
The biggest advantage of Burn Lab Pro is that it doesn't have stimulants. If you don't like caffeine or are worried about caffeine's side effects (such as jitters), get your hands on a supply of this fat burner.
Key strengths:
Feeds the body with essential fat-burning nutrients
Improves metabolic rate and calorie burning
Inhibits enzymes that break down muscle tissue
With a simple serving schedule of 3 vegan NutriCaps® per day, Burn Lab Pro is designed to be healthy and safe for daily use. This is a top-quality product.
Ingredients
Here's what you'll find in Burn Lab Pro:
Coleus Forskohlii (as Forslean) (375mg)
Cayenne Pepper Extract (as Capsimax) (75mg)
HMB (1,500mg)
NutriGenesis GTF Chromium (90mcg)
BioPerine Black Pepper Extract (3.75mg)
Burn Lab Pro's formula is 100% transparent. You can see every ingredient and its respective dose on the label. The quality of the ingredients themselves is excellent, it uses patented forms of herbs and nutrients, and even packs it all into prebiotic-infused capsules to make it easy on your digestion and absorb more efficiently.
This is a beautifully formulated product and a prime example of Opti-Nutra's ethos – you research the very best ingredients, source them from the very best suppliers, deliver them in optimal doses and high-quality capsules. And then sell them for a fair price.
Pros
Effective ingredient profile
Standardized, highly concentrated ingredient forms
Vegan-friendly
Manufactured in a cGMP facility
Opti Nutra is a highly reputable company
Fast worldwide shipping, great deals on bulk orders
Cons
Patented ingredients are pricey
Only sells directly from the manufacturer's website
It has no stimulants, which can be a downside if you prefer that caffeine 'kick'
–Read Our Full Burn Lab Pro Review–
or
#5 Hourglass Fit – The Highest-Rated Women's Fat Burner
Stim-free and packed with beneficial nutrients. It's specifically designed for appetite reduction & mood support.
Taking 4rd place overall is Hourglass Fit, a well-rounded fat burner with a specialized ingredient profile. Although it's mainly intended for women, it can also work for men. If you look past the marketing of the product, it's clear that there's no gender-specific fat burner. There are only fat burners with ingredients that work, and those that don't.
However, there are some things about Hourglass Fit that make it stand out. It has no stimulants, which makes it easy on your body and healthy for daily use. If you don't enjoy the jitters or other side effects of caffeine, you should look into Hourglass Fit.
Official Website: https://www.hourglassfit.com/
What's more, Hourglass Fit has strong appetite suppressants to really make an impact on those nagging food cravings. Keeping you full throughout the day and night, and allowing you to see your diet through.
Ingredients
So, what's exactly inside of Hourglass Fit? Here's a closer look:
Vitamin B6 (1.7 mg)
Vitamin B12 (2.4mcg)
Chromium (as Picolinate) (125mcg)
Zinc Citrate (8mg)
Vitamin B2 (1.1 mg)
Glucomannan (3,000 mg)
Cayenne Pepper Extract (100 mg)
Black Pepper Extract (5 mg)
5-HTP (150 mg)
There are no proprietary blends in Hourglass Fit. You can see each ingredient and its respective dose on the label. To us, this shows transparency and confidence in the product. You know exactly what you're paying for.
Our Thoughts on Hourglass Fit
Hourglass Fit has all the right ingredients in their optimal doses, that's why it works so well. From glucomannan, to cayenne pepper and chromium for blood sugar regulation and appetite reduction.
We like that it has 5-HTP included too – this compound has been shown to boost mood & mental well-being. When you're in a better headspace, you'll be more inclined to make better decisions, which will then make you feel even more motivated to stick to your goals – leading to a virtuous cycle.
Another thing we like about Hourglass Fit is the price. Although it's a top-of-the-line fat burner, it's more affordable than some other fat burners, which makes it good if you're on a budget. Being 100% vegan-friendly and free of fillers, the quality of Hourglass isn't compromised either.
If you're looking for a less-aggressive fat burner perfect for your daily lifestyle, Hourglass Fit could be the one!
Pros
Helps with the dieting needs of women
Improves results of a healthy diet
100% natural
Side-effect-free formula
Great deals and offers
Cleanest quality
Cons
Doesn't have a money-back program
No strong stimulants if you want a kick
Hourglass Fit is Available on Manufacturer's Website
#6 ShredCBD – Best CBD-Based Fat Burner
"2020's Golden Medalist in the the most innovative fat burner category."
ShredCBD is making waves in the fat burner market and offers a fresh new approach to fat loss, while also being a supplement that can give a large number of other benefits to an individual's life.
Online reviews and testimonials of ShredCBD have led to some exciting conclusions about this fat burner:
Helps you fight food cravings – ShredCBD reduces appetite and boosts your mental strength to avoid excess snacking.
Contains green tea extract – It's one of the leading fat burning ingredients and is backed by science to boost metabolic rate, help break down fat cells and even boost cognitive function.
Promotes fat browning – CBD turns harmful, hard to get rid of white fat into more metabolically active brown fat which gets burned off easily.
Has anti-anxiety and pro sleep benefits – ShredCBD helps you stress less, feel more energized during the day, and make weight loss a less dreadful process.
Includes 60 capsules per bottle – Each capsule is filled with 20mg of top-quality CBD isolate, along with two additional natural fat burners.
Fast, Direct, Free Shipping – Only available in the USA at the moment
Free 24-page scientific guide to weight loss – With every order
Great customer support – Friendly team of professionals and fast response times
Ingredients
Each capsule of ShredCBD provides:
20mg CBD Isolate
Green Tea Extract
Garcinia Cambogia
CBD is growing in demand due to its incredible wealth of beneficial properties. Each capsule of ShredCBD is filled to the max with 99% pure CBD derived from hemp. This compound has been shown in studies to impact inflammation, fat metabolism, appetite, and mitochondria (energy factories in our cells). All of this without causing jitters like caffeine or other stimulants.
ShredCBD is one of the safest fat burners on the market. It's safely locked at way under the legal 0.2% THC limit, making it non-psychoactive and perfectly legal to take.
How it Worked for Us
Trying ShredCBD for 8 weeks without making any significant changes to our lifestyle. Everyone in the team kept training 3 times per week as usual and we had a fairly restricted diet with an emphasis on lean protein and veggies, low amounts of carbs and some healthy fats. That said, we did slip up sometimes (as everyone does!), but we still achieved very surprising results, given the simplicity of this product.
We lost a solid amount of weight on average(as with any other fat burner), and were able to control our cravings much better. The improvement in sleep was most dramatical, and our stress levels went way down too. All of this kept us feeling great and shedding weight.
The biggest differences we've noticed:
Reduced appetite
Sustained fat loss
Not as fast-acting as aggressive stimulant-based fat burners, but it works really well if you give it time
Significantly better sleep and recovery after training
More focus and motivation in day to day life
Despite testing other fat burners, we have stuck with ShredCBD as an essential product in our daily routine as it stacks with other products easily and without issue and provides amazing results even when you're not cutting.
The Good
Clinically backed formula with 40mg of pure CBD Isolate per daily serving (1200mg per bottle)
CBD alone can offer a lot more than many fat burning ingredients combined
Green Tea Extract and Garcinia Cambogia are drafted in for additional support
cGMP manufactured
Quick Free Shipping in America
Free 24-Page Fat Loss Guide (apparently it's also sold separately for 10 bucks)
The Bad
Premium price due to high manufacturing costs of CBD isolate
Only available in the USA
Only sold direct at the official website
ShredCBD is Available at ShredCBD.com
#7 PhysiqueSeries Thermogenic & Stim-Free Fat Burner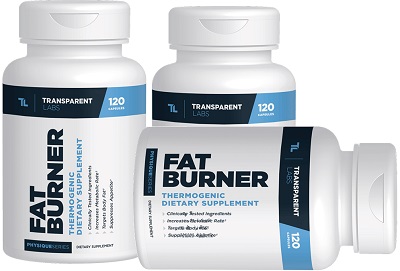 This is another really impressive fat burner from Transparent Labs. Although a bit cheaper than our first products, it's still very effective, making it an excellent choice for people who want to spare a few bucks.
Transparent Lab's Physiqueseries fat burner comes in two versions: one with caffeine and one without any stimulants. This gives options to individuals who may not be able to handle stimulants very well and prefer a 'gentler' fat burner.
That said, Physiqueseries Fat Burner has no proprietary blends, artificial fillers, or any harmful additives. As the company name tells you, this one is transparent! It covers all the bases which makes it a nice product that easily falls into our best fat burners of the year list.
Ingredients
Transparent Labs Physiqueseries fat burner contains 500mg of Forskolin as one of its main fat-annihilating ingredients. In studies, Forskolin has been found to reduce body fat while preserving muscle. It's gaining a lot of popularity right now as a newer and highly efficient fat burning ingredient and it's living up to all the hype.
On top of Forskolin, Physiqueseries Fat Burner contains some of our favorite stimulants: Caffeine, Chilli extract, and Green Tea. These work synergistically to provide a punch to your metabolic activity.
The stim-free version uses Acetyl L-Carnitine. While not the best fat burning ingredient around, it can improve mental focus – helping you to stay on track with your goals. Speaking of mental benefits, Physiqueseries Fat Burner also contains 5-HTP which can boost your mood and reduce food cravings.
The Good:
More affordable option
Coupon codes offer additional savings
Comes in stimulant and non-stimulant versions
Boosts metabolic rate and effectively lowers appetite
No cheap fillers or unnecessary ingredients
The Bad:
Only available on the internet
A few key ingredients missing (e.g. Konjac Root Fiber, Chromium)
Synephrine might cause side effects to those who're intolerant to it
Visit Website:
www.transparentlabs.com/products/physiqueseries-fat-burner
Our Conclusion to Best Fat Burner Supplements
And that ladies and gents, wraps up our guide to the very finest fat burners you'll find today.
Currently, we rate Burn Lab Pro (for men and women) and Instant Knockout CUT (for men and women) as the most effective products on the market.
Hourglass Fit is designed specifically for women who want to stop food cravings and feel better mentally. It can also help you burn more calories thanks to its thermogenic nutrients. Just like Burn Lab Pro, it's stim-free so there's none of those caffeine side effects.
Hunter Burn is a great option for busy men who want top quality. It enhances your mood while also directly ramping up your body's fat burning potential.
We've looked into some of the things you should watch out for when buying a product, and pointed out a few of the best ingredients too.
If you're sticking to a healthy diet and exercising regularly, then you're not going to go wrong with any of the options on this list. Here's a link to our personal top pick of this year:
References and Literature
Chang E, Kim Y. Vitamin D decreases adipocyte lipid storage and increases NAD-SIRT1 pathway in 3T3-L1 adipocytes. Nutrition. 2016 Jun;32(6):702-8. doi: 10.1016/j.nut.2015.12.032. Epub 2015 Dec 29. PMID: 26899162. (source)
Lyon MR, Kapoor MP, Juneja LR. The effects of L-theanine (Suntheanine®) on objective sleep quality in boys with attention deficit hyperactivity disorder (ADHD): a randomized, double-blind, placebo-controlled clinical trial. Altern Med Rev. 2011 Dec;16(4):348-54. PMID: 22214254. (source)
CREDITS:
READ NEXT: